Whatever craziness is going on, in my head or otherwise, baking grounds me. Last night, for example. Couldn't sleep. Walked my bare feet over cold floorboards to the dark kitchen. Fumbling, I gathered sifter, bowls and pans, trying not to clatter. And, sigh: I measure. Sigh again: Sift flour & sugar. Sigh: (the last! I'm breathing better now) cut in the butter, tousle the two with fingertips 'til wet-sand-like, add the almond meal, stir the cream, whisk the filling. And last? Peel the apples that smell just the color of their green skins.
The light comes golden now, pushing west through house and garden, matching the scent of baked tart, coming from the oven. Waiting, I remember this tart from little, a thing I made for mom. Different kitchen, different goals, same spiral of apples and almond. Make some. Eat some. And it's all okay. Note: This recipe makes TWO tarts. Also, if you like this tart, you may also want to try my Gooseberry Tart–a simple way to showcase gooseberries, or whatever other berries you have on hand.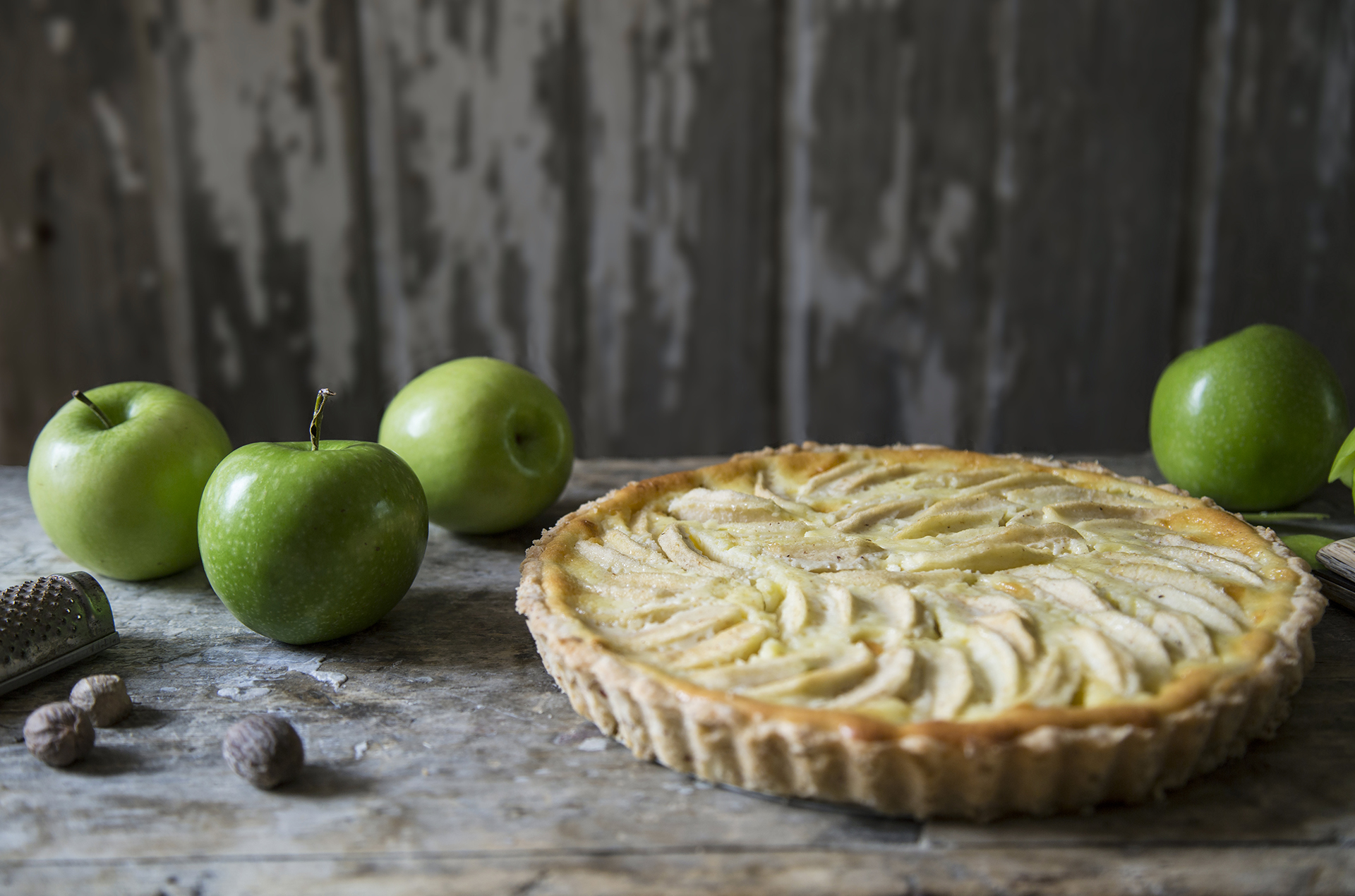 Apple Almond Cheese Tart
2017-09-02 21:44:30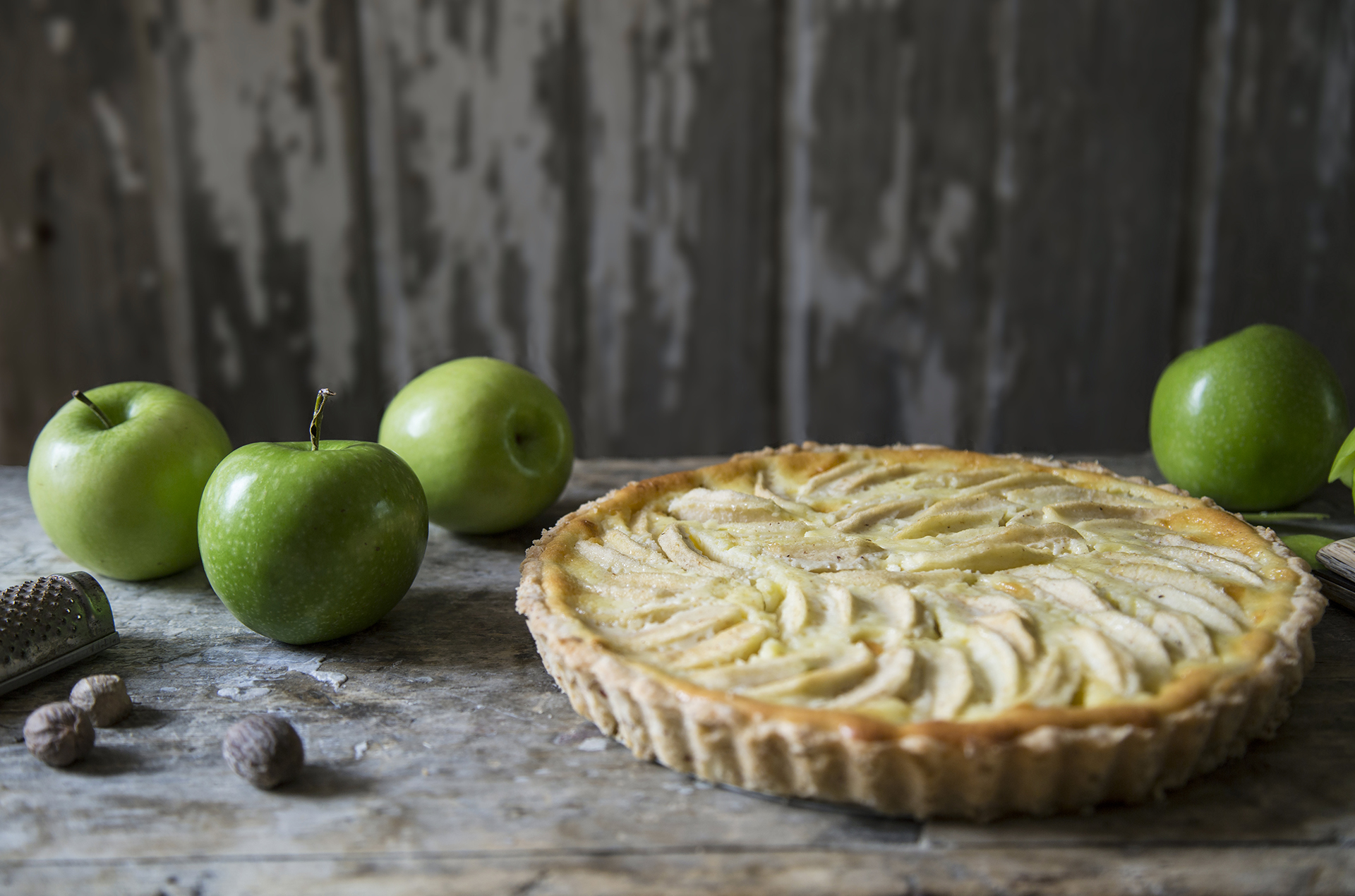 Serves 16
Apples over almond-cheese filling, in an almond-flecked tart crust. Really easy to make & very tasty
Ingredients
Apple Topping
6 small Granny Smith Apples, cored, peeled, quartered and thinly sliced
2 Tbsp brown sugar
Tart Crust
2 ½ cups all-purpose flour
½ cup pure cane sugar; or, light-brown sugar (packed)
2/3 cups almond meal
¼ tsp salt
2 sticks (1 cup) extra-chilled salted butter, cut into cubes
2 egg yolks (save the whites for the filling)
4 Tbsp cream, or whole milk (as needed)
Filling
1 package cream cheese
4 eggs (plus egg whites reserved from the crust)
2/3 cup pure cane sugar
2 tsp almond extract
pinch salt
Instructions
Prepare apple topping: Toss sliced apples with sugar in a bowl. Cover and refrigerate.
Make crust: Sift flour and sugar into a large shallow bowl. Cut in chilled butter until pea sized crumbles form. Using your fingertips, lightly breakup the bits until the mixture resembles wet sand. Add almond meal and salt. Stir in egg yolks and add cream until mixture gathers up. Spread two overlapping sheets of plastic wrap on to counter; scoop dough onto plastic. Gather into a ball. Cut in half. Flatten each piece of dough into a disk and flatten. Wrap each in plastic and chill in the refrigerator at least an hour and up to 24 hours.
Make filling: Using an immersion blender, stand blender or food processor, combine all filling ingredients.
Assemble: Place oven rack in the center of the oven. Preheat oven to 350. Roll out each tart crust; press crusts into two tart pans, trimming and saving any excess crust. Divide filling between the two crusts. Remove sugared apples from fridge. Starting at the center of the tart, spiral the apples in a round, moving in a circular pattern until half of the apple slices have been used an the surface of the tart is covered with apples. Repeat with the second tart. Finely grate just a bit of nutmeg over each tart. Place tarts on rack in oven. Bake for 45 minutes. Remove to a cooling rack. Serve room temperature, or, chilled.
Notes
You can make the crust and sugar the apple slices a day ahead of time; then make the filling, assemble and bake the tart on the day you want to serve it.
Lost Recipes Found http://lostrecipesfound.com/