Alfredo Nogueira can't remember the first time he ate crawfish. "But I'm sure I was really little," says the chef, who grew up just outside of Orleans Parish, in Louisiana. Relocated to Chicago where he serves Cajun & Creole food (and what is probably the city's best cup of chicory coffee) at Analogue restaurant, Nogueira is telling crawfish tales: The story of how he got his start cooking the creatures, for example. As a young teen busing tables at huge-volume seafood restaurant, being cool was of interest; being brawny, even more so. "And there was no one brawnier or cooler than the guy who was in charge of the crawfish boils," Alfredo laughs. "I said to myself, that's what I want to do." Nogueira got his wish senior year of high school, and, through the steamy hot, hard-labor of toting huge kettles and boiling the seafood, achieved brawn. "…'though I'm not sure about the "cool!" he laughs again.
Come winter-thaw in Chicago, he's doing it still, cooking crawfish every which way he can, serving it to other relocated NOLA-ans starved for home, and to Chicagoans who may never have seen a mudbug before. This year is a particularly good one for the crustaceans, due to the mild winter and plenty of rain, which coaxed the critters out of their burrows earlier, and prompted them to eat more. "We started getting them very early this year," says Stacy Schultz, Marketing Manager and Sustainability Coordinator for Fortune Fish in Chicago, "And the season should go through June." Because they're little (only 2 1/2 to 4-inches long,) it takes between six & seven pounds of whole crawfish to yield one pound of crawfish tail meat.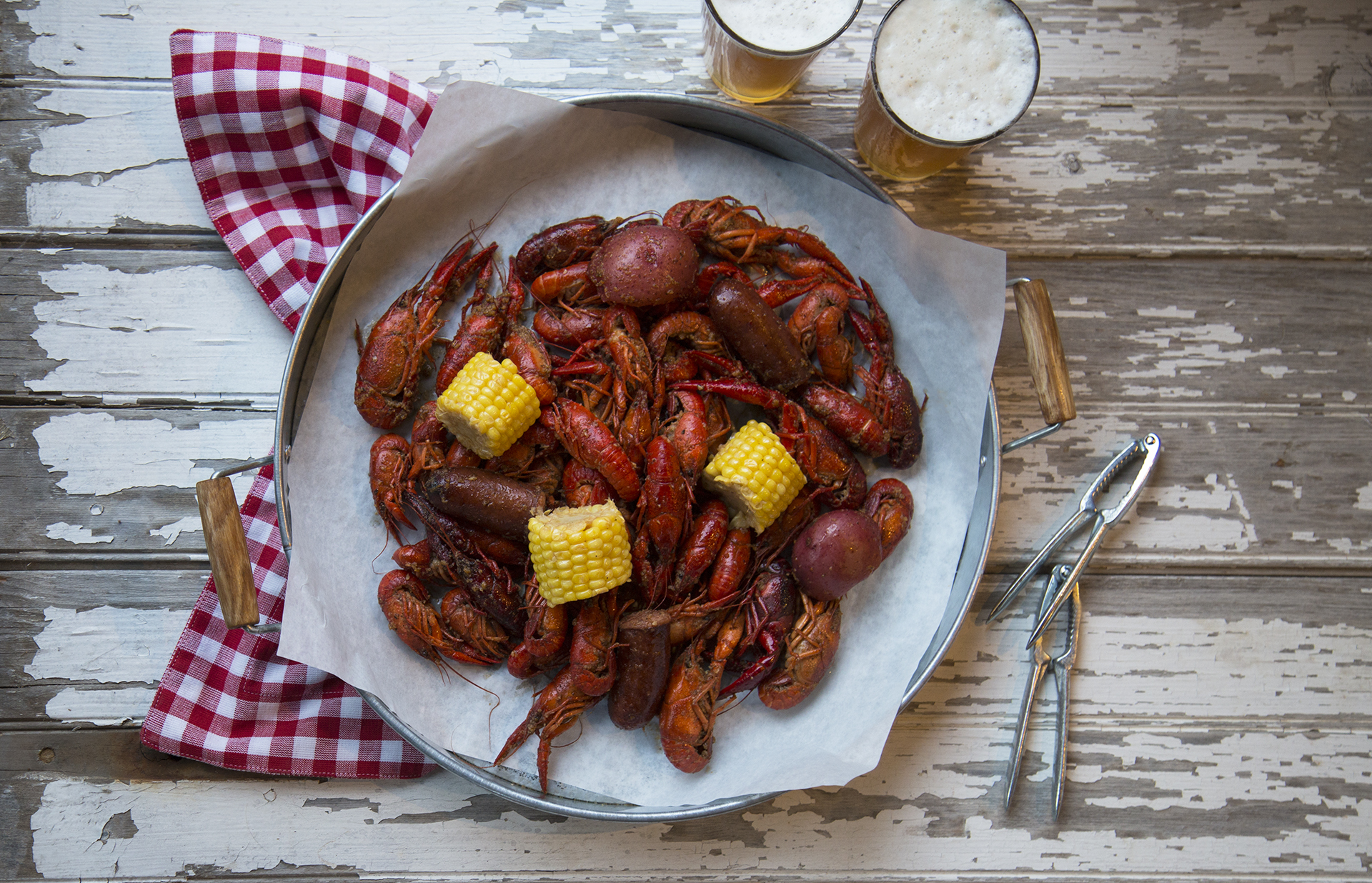 Getting at that meat often starts with a crawfish boil. Around Chicago, there are several places doing a good job with crawfish boils. Among them? Lowcountry (shown above), and Kinmont. A traditional boil entails mixing chef's-choice of spices with plenty of onion, garlic and "tons of bay leaf," in a boiling kettle of water, says Nogueira. While no two chefs' crawfish-boil spice blends are the same, (& some are closely-guarded chef secrets) most include lots of cayenne pepper, black pepper & paprika. In addition to crawfish, cobs of corn, links of andouille sausage and whole red potatoes go into the pot. Once the crawfish are ready, eating them is a four-step thing, accompanied with plenty of cheap beer. "You kind of get into a rhythm with it," says Noguiera. Grasp the tail in one hand and the head in the other, twist to separate the two, pluck the tail meat from the shell, and eat. Then suck the juice from the head , swig some beer & repeat. "Some people are squeamish about the heads, but there really is a lot of flavor in the head juices," he adds.
Soooo….you really should go out with your friends to a restaurant boil this season—they're fun (the pro-boils, and your friends.) But if you want to try one at home, too? Here's how! The mainstays are a big pot of boiling water & a good Cajun spice blend (ours is loosely based on a blend Dennis Gutierrez, chef de cuisine at Kinmont uses, topped with Pan Hompluem's garlic butter sauce from Lowcountry) Plus plenty of fresh crawfish, red potatoes, corn, andouille & beer.
And when the party's over? That's when everybody sits around and picks crawfish. "There's always lots left over, so you crack open more beers and get to it," Fredo explains. The pounds of nice-and-spicy meat gathered then goes in to making etouffee, crawfish-tail "lobster" roll sandwiches, crawfish boudin, or this Crawfish Monica, the cream-sauced dish chef Pierre Hilzim named for his wife thirty years ago that is now synonymous with New Orleans jazz fest. But while Hilzim's original is made with rotini pasta and starts with unseasoned tail meat and added spice; Nogueira's uses liguine and already-spicy crawfish leftover from a crawfish boil. Enjoy.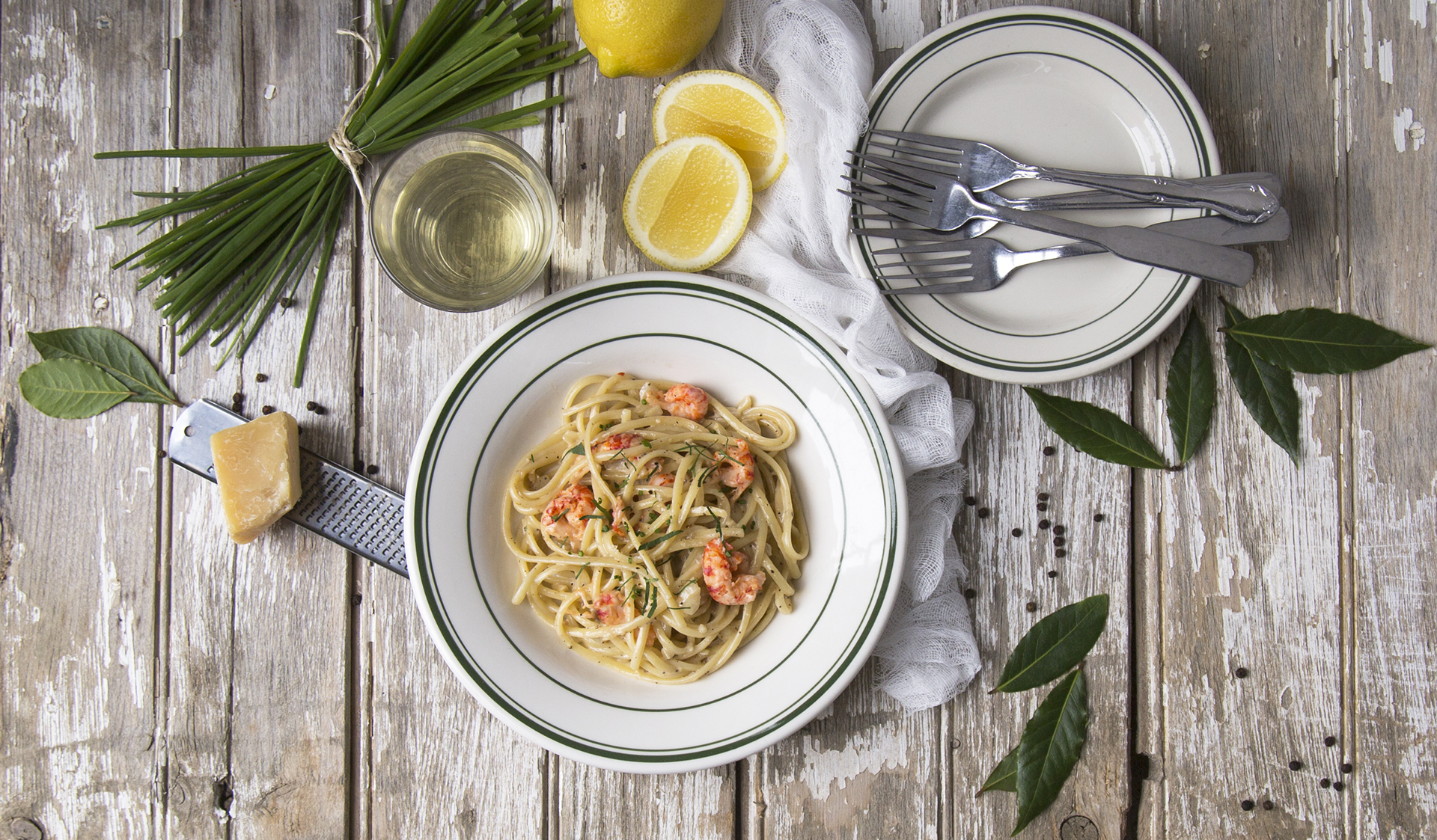 Crawfish Boil & Crawfish Monica
2016-02-10 06:31:04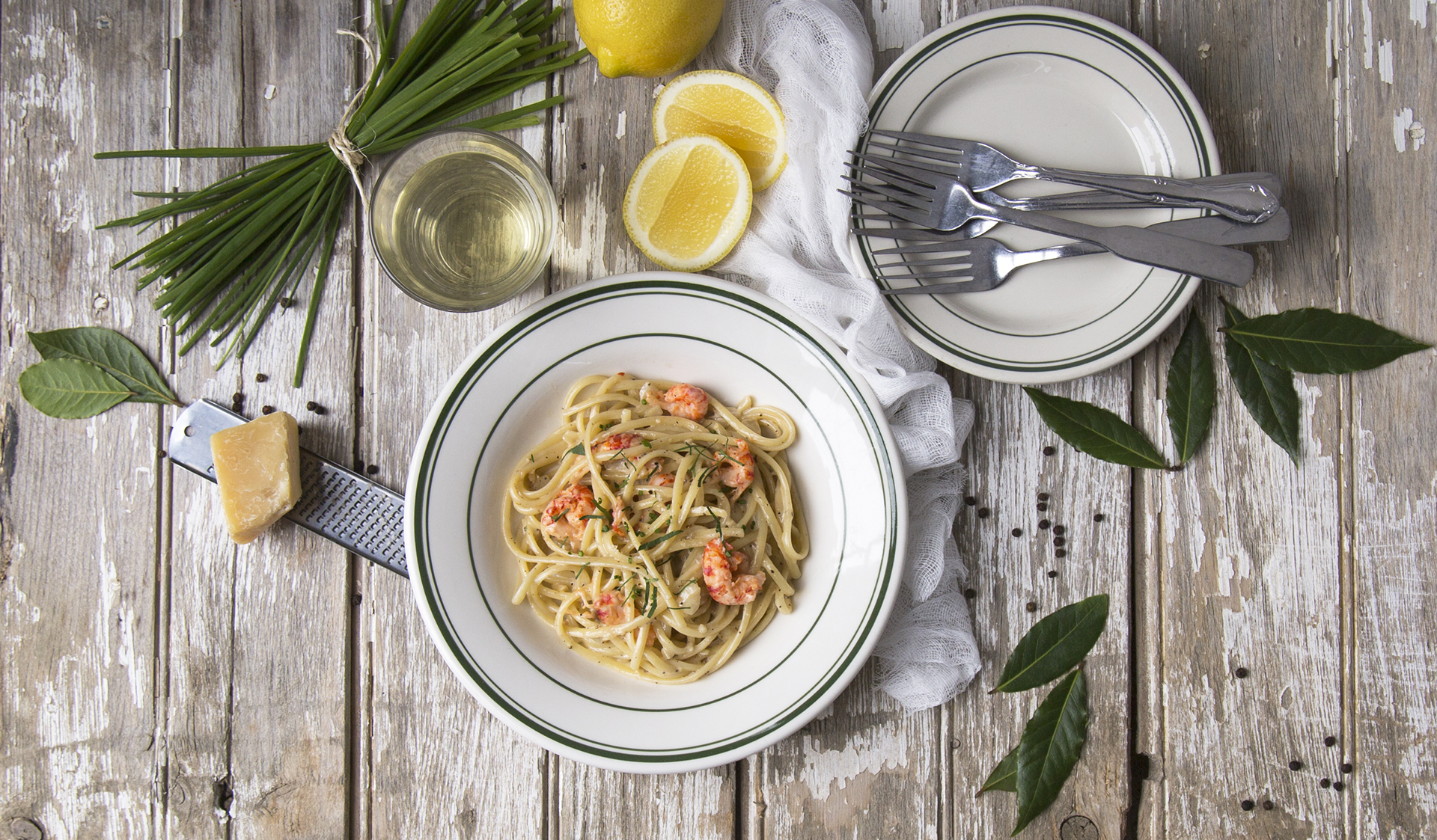 Twofer! Vintage New Orleans recipes for a crawfish boil & this creamy crawfish pasta dish made from the tail meat, next day.
Ingredients
Crawfish Boil
4 quarts boiling water
4 to 6 Tbsp Cajun Crawfish Boil Spice Mix (below)
6 lbs fresh crawfish
3 lbs red potatoes, unpeeled
3 lbs andouille sausage or Cajun sausage in links
2 whole medium-sized onions
6 cloves garlic
2 lemons, sliced
6 cloves garlic chopped
handful of fresh bay leaves (6 to 8)
Cajun Crawfish Boil Spice Blend
2 to 3 Tbsp Cayenne pepper
3 Tbsp Spanish paprika
1 Tbsp dried mustard
2 Tbsp each, garlic powder & onion powder
2 Tbsp black peppercorns
3 Tbsp coriander seeds
3 tsp salt
Garlic Butter Sauce
1 stick butter
2 Tbsp fresh garlic, minced
1 tsp cayenne pepper
1 Tbsp of the Cajun Crawfish Boil Seasoning Blend you just made
Grated zest from 1/2 a fresh lemon
Juice from 1/2 a fresh lemon
Crawfish Monica
1 box linguine, prepared according to box instructions
1 pound crawfish tail meat, picked from crawfish boil
1 medium onion, diced small
5 cloves garlic, minced
1 Tbsp butter
1 cup dry white wine
1 cup heavy cream
1/2 cup freshly-grated Parmesan cheese
1 Tbsp fresh chives, minced
1 Tbsp fresh parsley, minced
salt & freshly cracked pepper, to taste
Fresh lemon juice, to taste
Instructions
Crawfish Boil Spice Blend: Mix all ingredients.
Crawfish Boil: Make your crawfish-boil spice blend. Set 4 quarts of water to boiling.Add 4 to 6 Tbsp of the spice blend, plus a handful of fresh bayleaves, 2 whole onions and 6 cloves of garlic and 2 sliced lemons to the boiling water. Add as many of the crawfish as will fit into the boiling water. Boil for five minutes, until crawfish are bright red. Remove crawfish from pot. Repeat with remaining crawfish, removing after cooked and bright red. Add potatoes to the boiling water that you just removed the crawfish from. Boil 5 minutes. Leaving potatoes in pot, now add corn, broken into 3 inch cobettes. Boil five minutes more. Add sausage. Boil five minutes more. Remove potatoes, corn and sausage and add to crawfish on a bit platter. Keep warm. Make garlic butter sauce and pour over ingredients of boil. Serve.
Garlic Butter Sauce: In a heavy-bottomed sauce pan, melt butter over medium heat. Add garlic, cajun seasoning, cayenne pepper, zest and lemon juice. Stir thoroughly. Pour over crawfish boil ingredients before serving.
Crawfish Monica: Pick the tail meat from 6 pounds of crawfish (enough to yield 1 lb) that was prepared in a crawfish boil. Save shells to make stock.Prepare linguine according to package instructions. Save pasta water. In a large, heavy-bottomed saute pan, melt butter and add onions and garlic, sweat and saute at low temperature until onions and garlic are translucent. Add wine and turn up heat a bit; cook until liquid in the pan has been absorbed by the onions & garlic. Add cream and 1/2 of the parmesan cheese. Reduce. Remove pan from heat; fold in crawfish gently. Taste sauce and adjust seasoning with salt, pepper and lemon. Combine finished sauce with prepared linguine. If too thick, add a bit of the hot, reserved pasta water. Move to individual plates. Garnish with chives, parsley and extra cheese.
Notes
Note: Added bonus: When you pick the tail meat from your crawfish boil crawfish to eat as is, or to make into crawfish Monica, save all of the shells (heads, claws & all) and simmer them in a pot to make a nice stock you can use for a crawfish bisque or seafood stew.
Adapted from Alfredo Nogueria; Dennis Gutierrez
Adapted from Alfredo Nogueria; Dennis Gutierrez
Lost Recipes Found http://lostrecipesfound.com/