It probably wasn't an apple. Apricot, pear or pomegranate…maybe. But mythologists suggest that the eye-opening, original-sin-ushering fruit Eve plucked from the Tree of Knowledge was likely a fig. "Ancient Hebrews wouldn't have known an apple from a hole in the ground," sums Alan Ridenour, writing in his Offbeat Food: Adventures in an Omnivorous World, "They knew figs however and specifically mentioned fig trees growing in Eden," leading scholars to suggest that the fig was the fruit intended. And honestly? With its lush fecundity, tender fruit and beguiling fragrance, it's hard not to give a fiddle for a fig.
My mother grew up eating the fresh fruit from a large, spreading fig tree that grew next to her childhood home in southern Texas. She spoke wistfully of that tree, the scent and the flavor of its fruit, the cool of its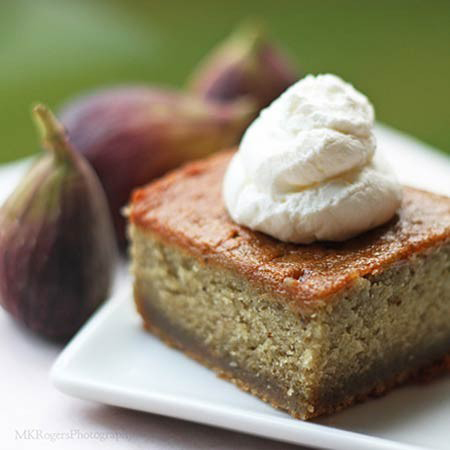 shade…and passed her fondness for figs right down to me. So reading cookbook author Belinda Hulin's ode to the fig tree that grew 30 feet high and more than 30 feet wide in her own mother's Louisiana backyard, struck a chord. Hulin's story, featured in her 2010-released Roux Memories, is a beautiful tale of growth, loss and rebirth.
She writes, "My mother planted the tree more than thirty years ago…without fertilizing or pruning, dependent on rain for watering, it grew. And grew. And grew." And as Hulin grew, the fig tree gave back. "Sometimes," writes Hulin, "like after my father died, or when my first marriage crumbled—I'd wander into the backyard just to visit the fig tree, eat from its branches, and stare into its mystical depths."
But Hurricane Katrina was too much for the tree, which was reduced to a three-foot stump. Sometime later, Belinda caught a whiff of a luxurious aroma. "I thought I was having some sort of olfactory flashback." she remembers. But stepping to the back door, "…even the stumps that were level with the ground had sent up green shoots on which tiny split-fingered fig leaves were growing." And in and around the leaves were figs. Hulin says she "inhaled as deeply" as she possibly could, whispered a few sweet nothings to the tree, then called on the patron saint of figs to help that little Tree of Life heal itself.
You really must get this book. In the meantime, here is a sample of what you'll find there: Hulin's fresh fig cake, made with fig preserves. Try the filling in our homemade fig bars , too.
Fig Preserves & Fig Cake
2016-08-14 04:20:53
Serves 8
I adore fresh figs--the shape and flavor of the fruit, and all of the delicious things you can make with it. Here are two favorites. The preserves make the perfect filling for homemade fig bars, or goes well over yogurt. And the cake is so moist as to be almost pudding like.
Ingredients
For fig preserves: Ingredients
6 cups fresh, whole figs
2 Tbsp baking soda
3 cups water
3 cups sugar
1 sliced fresh lemon, seeds removed (NOTE; If you don't like the flavor of marmalade, remove and discard the skin of the lemon. Otherwise, just leave it on)
Fresh Fig Cake Ingredients
¾ cup softened butter
1 cup sugar
3 eggs
1/2 cup milk
2 cups flour
1 tsp baking soda dissolved in 1 tsp vinegar
1/2 tsp vanilla
2 cups fig preserves (recipe above)
Instructions
Make preserves: Snip stem ends from figs and discard. Rinse trimmed figs in colander. Mix baking soda into ½ gallon cold water in a large pot. Place figs in the pot and swirl around to rinse well. Drain figs in colander and rinse with fresh water. Combine figs, sugar, water and lemon slices (or, just the lemon flesh if you don't like the flavor of marmalade) in tall soup pot. Cook, stirring often, over medium-low heat. Cook until fig mixture reaches desired thickness—about 2 ½ to 3 hours. NOTE: I used a hand-held immersion blender to blend most of the figs for a less-chunky preserve.
Sanitize six, clean, pint canning jars by boiling in water along with canning seals and lids. Ladle hot fig preserves into the jars, leaving about ½ inch of headspace at the top. Place seals on the jars and process in a boiling water bath 10 to 15 minutes. Remove from bath, let stand until cooled, and store. NOTE: This recipe can be halved and refrigerated or frozen, if you don't want to can the preserves. For this option, let preserves cool, then spoon into storage tubs. The preserves will keep for one month to 6 weeks in the refrigerator; 6 months in the freezer.
Make cake: Cream butter and sugar together. Add eggs, one at a time, beating after each addition. Add milk. With mixer on low, slowly add flour followed by dissolved baking soda. Beat in vanilla. Add fig preserves and beat until just blended. If using a stand mixer, be sure to scrape sides and bottom of bowl to ensure even mixing. Pour batter into a greased 9 x 12 baking dish. Bake at 350 degrees for 50 minutes to one hour. Cake will flatten and pull away from sides of baking dish as it cools. Serve warm with whipped cream. (But cold is good too!)
Lost Recipes Found http://lostrecipesfound.com/