I love stories of positive change. With so much to be depressed about environmentally, it's encouraging to spend time with people like Harold Wilken of Janie's Farm Organics and The Mill at Janie's Farm in Ashkum, IL. One after another, land owners are coming to Harold with requests that he help them switch to organic farming. One after another, the acres in that bit of Illinois are returning to health, part of a growing grain revolution. And the certified organic grains Wilken and his farmers are stone-ground milling into whole kernel flours are full of living enzymes, germ, endosperm and bran. These flours make delicious breads like those featured at Hewn Bread in Evanston, IL, and got me thinking about a favorite treat of mine: Graham crackers.
Graham crackers are named for Presbyterian minister Sylvester Graham, who introduced the eponymous coarsely-ground, unsifted wheat flour he believed to be an antidote to the poor health suffered by people in his circles who ate too much white bread. A vegetarian and big believer in high-fiber diets, Graham was also a severe personality who recommended "hard mattresses, open bedroom windows, chastity, cold showers & loose clothing" (!) Sooo…not exactly a party boy.
But Graham would have approved of The Mill at Janie's Farm flours. Like Graham flour, Janie's "Mackinaw" flour is 100% whole grain, milled from organically grown hard red winter wheat, stone ground and unsifted (sometimes called "unbolted) making it perfect for use in this recipe for honey cinnamon graham crackers. You can buy "Mackinaw" flour direct from Janie's. (Bob's Red Mill Graham Flour can be substituted if you can't get Janie's "Mackinaw" flour.)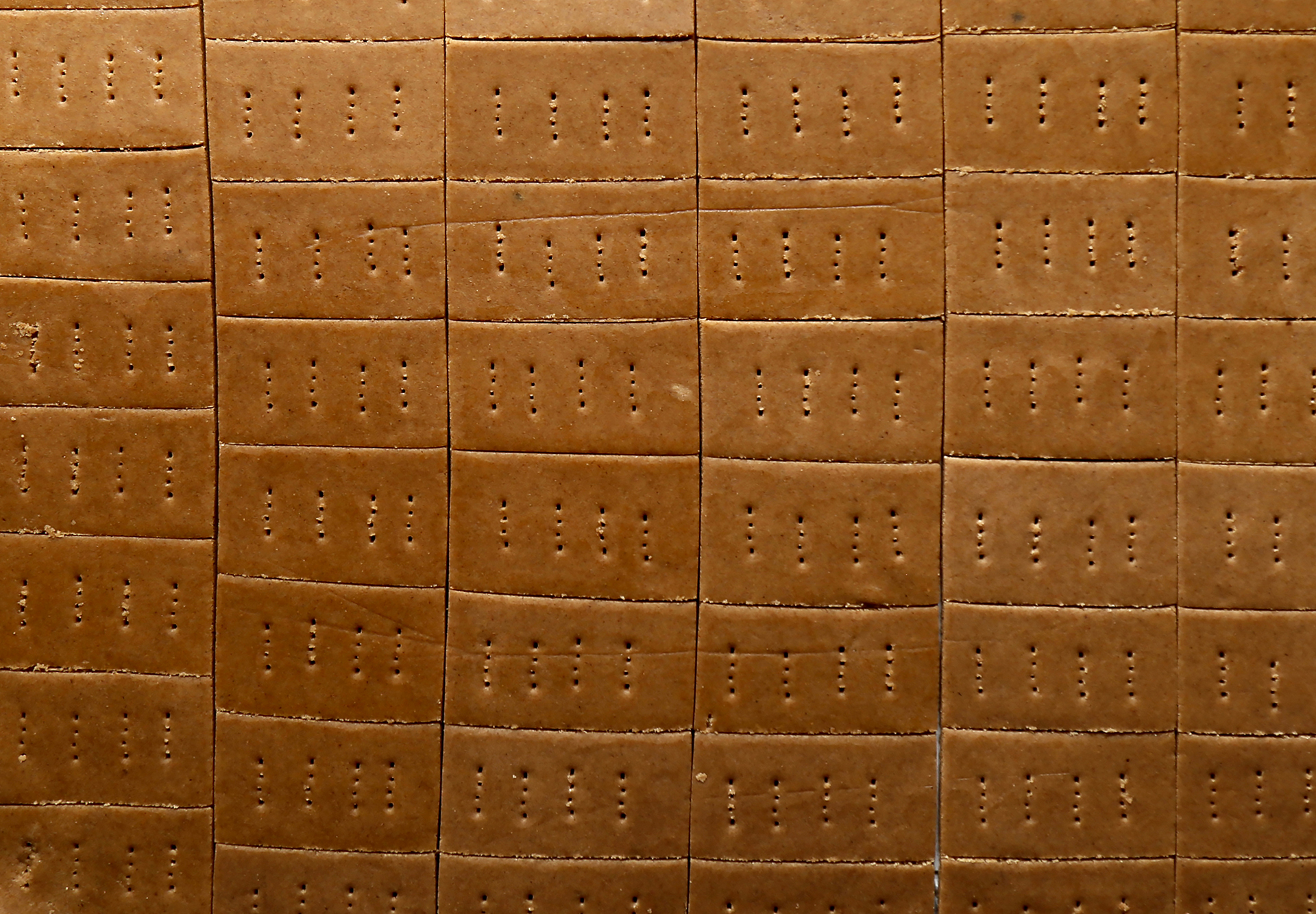 I've made these crackers a variety of ways: With dark brown sugar and a darker honey, they take on a sweeter, darker flavor. Use a lighter-flavored honey and light brown sugar and a lighter cracker results (which is my preference.) I include two teaspoons of cinnamon in the dough. But you can add extra cinnamon by brushing the crackers with egg wash and sprinkling them with cinnamon sugar for a glazed crunchy finish.
Be sure to bake the cookies in the center of a preheated oven. They'll crisp up nicely as they cool.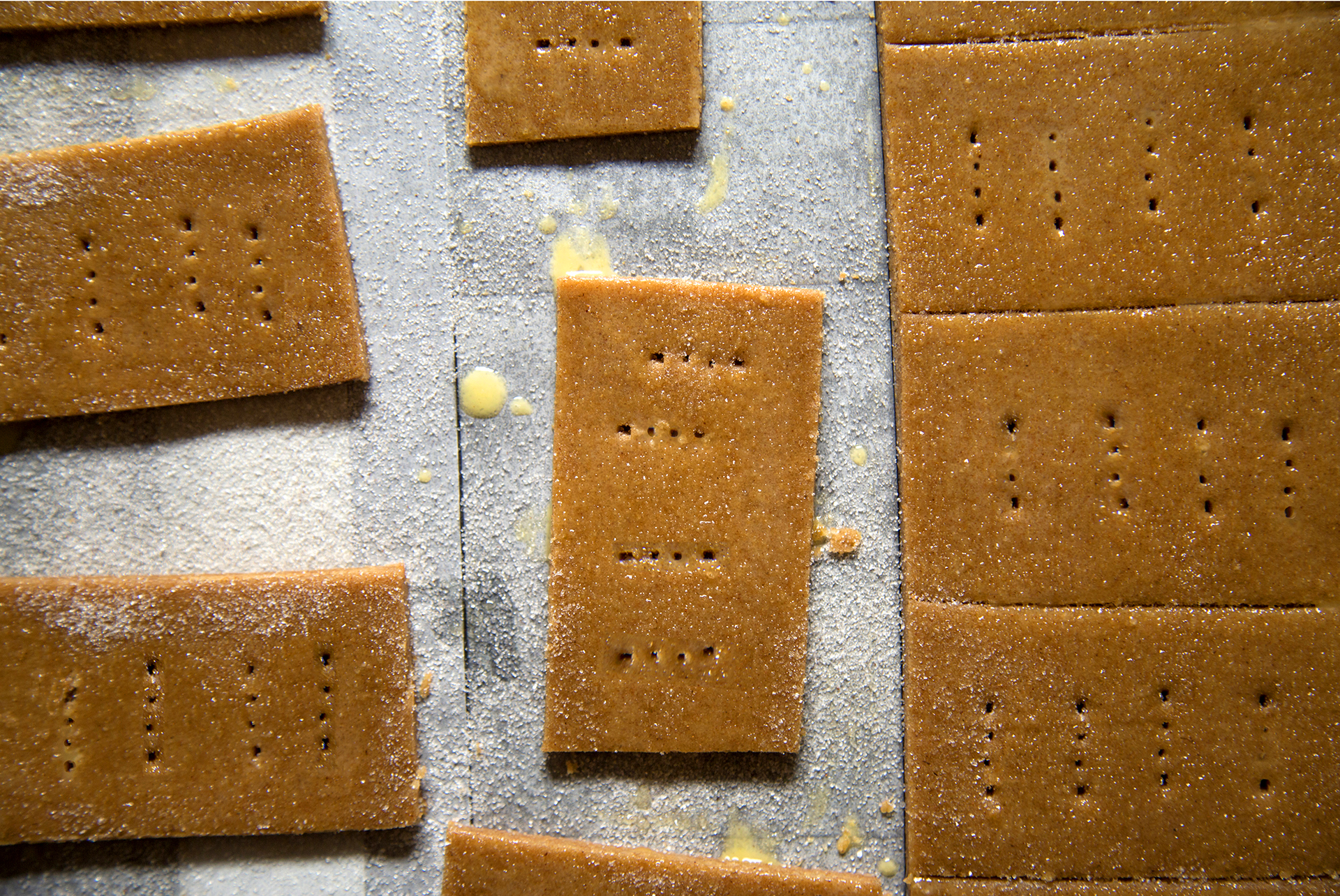 Honey Cinnamon Graham Crackers
Ingredients
3 cups Graham flour (I use The Mill at Janie's Farm Mackinaw flour)
3 cups all-purpose flour
1 1/2 tsp baking soda
2 tsp ground cinnamon
1 tsp salt
1 pound unsalted butter, slightly softened
1 1/2 cups light brown sugar, not too densely packed (Dark brown sugar may be substituted for a darker flavor)
1/4 cup honey (I use rapsflower blossom honey--a light honey like this works well)
Optional glaze: eggwash made with 1 egg and 1 Tbsp water; sprinkling of cinnamon sugar on top
Instructions
Combine the two flours, baking soda, salt and cinnamon in a large bowl, whisking to combine. Set aside.
In the bowl of a stand mixer with paddle attachment, whip the softened butter with sugar and honey for five minutes. With the mixer on low speed, slowly add the flour mixture in three parts, paddling it into the butter sugar mixture until smooth.
Spread work surface with a covering of parchment paper. Trace around a cookie sheet onto the parchment paper. Cut out the cookie sheet shape from the parchment paper. Leaving a four-inch border around the edges of the cookie sheet-shaped paper, take handfuls of the playdough-like dough and mash them down connecting one handful of dough to another and flattening with your hands until you have a big rectangle of partially-flattened dough on the parchment. Completely cover partially-flattened dough with parchment paper. Using a rolling pin, flatten the dough to an even, 1/8 inch thickness.
Remove the top layer of parchment paper. Cut the dough into a grid of 1 1/2-inch x 2 1/2-inch rectangular crackers, puncturing each cracker with the tine of a fork to make three rows of dots in each cracker.
Carefully slide the now finished, parchment-backed grid of raw crackers onto a cookie sheet. Set aside.
Repeat step number three and four until you have rolled out and scored all of the dough into cracker shapes on cookie sheets.
Cover each of the cookie sheets of raw crackers with parchment paper; place all in freezer and freeze dough for 2 hours.
Place oven rack in center position. Preheat oven to 350.
Using a thin spatula, work quickly to remove frozen raw crackers one at a time from frozen cookie sheet, placing them on a fresh, parchment-lined cookie sheet and leaving at least ¼ inch of space between each cracker.
Repeat this process until all raw graham crackers are now on fresh, parchment-lined cookie sheets.
If desired, spread raw crackers with egg wash and sprinkle with cinnamon sugar.
Bake graham crackers for 12 to 14 minutes until golden brown. Remove from oven and cool.
Notes
Spreading this dough before rolling it out is a good job for little helpers. I take handfuls of the playdough-like dough and mash them down one at a time, connecting one handful to another and flattening until I have a rectangle of partially flattened dough. Fun for your kids
http://lostrecipesfound.com/honey-cinnamon-graham-crackers/
2017 Copyright