Before there was Michael Douglas (Fatal Attraction, Basic Instinct and more movies,) there was Kirk Douglas, a 1940s matinee idol with the deep cleft in his chin some of my boys have, but dislike. (They call it a "butt chin"…) If it weren't for Ant Man, in which Michael had a nice role, and 20,000 Leagues Under the Sea, which Noah considers "epic" for its crude special effects (first sci-fi shot in Cinemascope), my kids would be unfamiliar with either of these actors. But back in the '70s, Kirk was still, very much, a familiar film legend. Which is where this meatloaf comes in…
Reader Bill Hensge wrote looking for a Kirk Douglas meatloaf recipe he thought he read in an in-flight magazine 25 years ago, could I please find it? Some digging later, I'd narrowed the hunt down to two carriers and had permission from United Airlines to make a visit to the climate-controlled vault under an Elk Grove building where they store the archives for their in-flight magazine. There, with the requisite white gloves on, I found that in 1973, Mainliner magazine started a several-year series of cooking-based celebrity interviews, including the one Hensge sought: Kirk Douglas' favorite meatloaf. (!) A recipe created by Douglas' German cook Fifi, the light-colored and mildly-flavored loaf includes ground beef, veal and pork and a bacon-topper. Douglas liked his with nutmeg-seasoned mashed potatoes on the side. My family likes it with mashed, too. But I think it's good served room temperature or chilled, sliced on a charcuterie board with lots of pickles, onions and mustard, or stacked on bread as a meatloaf sandwich.
If you find the loaf too plain, add chopped cooked chilis to the mix, and, or, bake it with a slathering of spicy tomato catsup under the bacon. To make the loaf look pretty and unmold easily, I like to use a pullman-loaf baking pan–a bit longer and taller than a typical bread pan, lined with parchment paper. I layer the three slices of bacon over the parchment at the bottom of the pan, then fill to the top with the loaf mixture. Once baked, use the edges of the paper to lift the loaf from the pan and invert over a cutting board or platter to slice and serve.
Note: I loved chatting with public radio's Monica Eng about finding vintage recipes for her podcast with Louisa Chu–listen to the segment here (the vintage recipe chat starts at the 18 minute mark.) "Chewing the Fat." For more of the stories/recipes featured in the Chewing podcast: Franklin Park PTA BBQ Day Sloppy Joes, The Original Chocolate Fudge Brownie from the Palmer House, Evan Moses Chocolate Malted Frosty Ice Cream, Chicken Consomme with Marrow Dumplings, Orange Dips, Mile-High Strawberry Pie, Dressel's Chocolate Fudge Whipped Cream Cake, caramel pecan sticky buns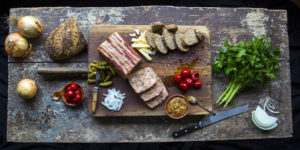 Kirk Douglas' Favorite Meatloaf
2016-09-25 04:02:54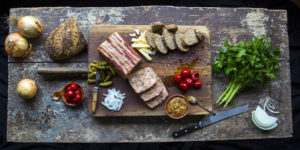 Serves 8
A recipe created by Kirk Douglas' German cook Fifi, this light-colored, mildly-flavored meatloaf includes ground beef, veal and pork and a bacon-topper. Eat it the traditional way, with mashed potatoes, make sandwiches of it, or slice and serve it on a charcuterie board, with pickles onion and mustard.
Ingredients
1 lb, each, of ground beef, veal and pork
1 medium onion, finely chopped
3 Tbsp. fresh minced parsley
2 eggs, whole
2 Tbsp. flour
2 Tbsp. bread crumbs
1 ½ tsp. salt
1 tsp. fresh ground pepper
¼ tsp. paprika
¼ tsp. dried oregano, or, 1 tsp. fresh, minced
¼ tsp. dried thyme, or, 1 tsp. fresh, minced
5.5 oz. V-8 juice
3 strips bacon
Instructions
Combine all ingredients except bacon in large bowl. Mix well. Place meatloaf in ungreased loaf pan, pressing down so that there are no air pockets. Place three strips of bacon on top. Bake in a pre-heated 350 degree oven for 1 ½ hours. Alternate method: Line a Pullman-loaf baking pan with parchment paper. Layer the three strips of bacon in the bottom of the pan, over the parchment. Fill with meatloaf mixture.Bake as directed.
Lost Recipes Found http://lostrecipesfound.com/