When Liz Williams, director of New Orleans' Southern Food & Beverage Museum was little, her mama couldn't stand okra. "So, I didn't eat it either," says Liz. But Liz' Louisiana-born-and bred daddy loved the stuff. He bought a jar of pickled okra on a picnic outing and won Liz over with the crunchy spears. "When I figured out what it was, I couldn't wait to get home to tell my mom that she was wrong about okra," Liz laughs. "Eventually, she grew to like it." For anybody else out there who is skittish about okra, pickling it is the way to go. This vibrant, crunchy and lightly spicy giardiniera–a Williams family favorite–is a showcase for pickled okra. There's no cooking involved–just brine the vegetables overnight before soaking them in vinegar, oil and herbs.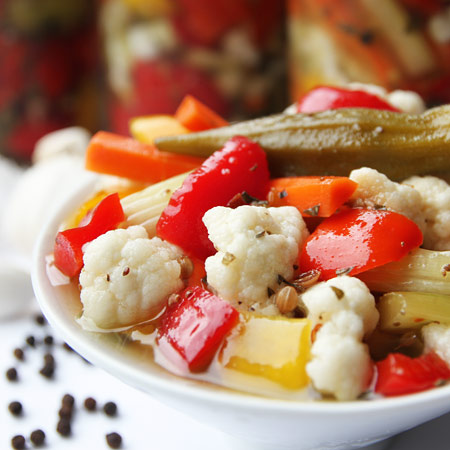 New Orleans Okra Giardiniera
2016-06-16 01:55:25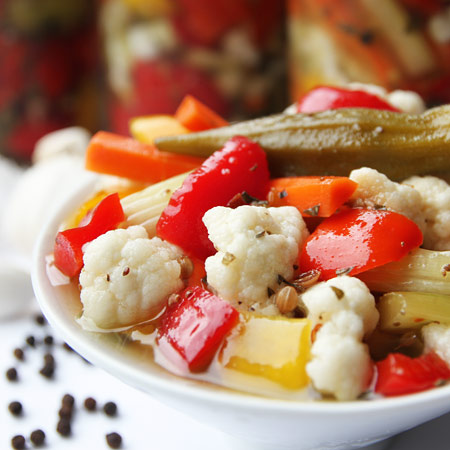 A great way to feature your home garden or farmers market produce, this colorful refrigerator pickle of fresh okra, peppers, cauliflower, celery & carrot requires no cooking & stays crunchy and fresh.
Giardiniera Ingredients
10, 3-inch long (or smaller) very-fresh okra
2 sweet red bell peppers, seeded and cut into 1/2-inch pieces
4 small hot peppers, whole
3 celery stalks, cut in 1-inch pieces
3 carrots, cut in 1-inch sticks
1 medium cauliflower, cut into small florets
1/2 cup salt
Vinaigrette and Spice Ingredients
2 cloves garlic slivered
3 tsp dried oregano
1 tsp red pepper flakes
1/2 tsp celery seeds
1/2 tsp coriander seeds
1 tsp crushed black peppercorns
2 bay leaves
1 cup white vinegar
1 cup olive oil (or grapeseed oil) Note: do not use extra virgin)
Instructions
Toss vegetables and salt until well-combined in a large glass bowl. Add enough water to cover the vegetables. Let the vegetables sit in the brine for 10 to 12 hours
Drain vegetables and rinse thoroughly. Sterilize 2 quart glass jars with lids.
In one sterilized jar, combine the vinaigrette ingredients and spices. Shake well to emulsify. Pour half of the dressing into the other jar, distributing the spices evenly between the two jars. (Ensure there is one bay leaf and one garlic clove in each jar.)
Pack vegetables into jars, making sure to distribute the various vegetables evenly. If not completely covered with the dressing, make and add more. Screw lids onto jars and refrigerate. Allow the mixture to mellow for a couple of days before serving. A great accompaniment for sandwiches, with fish, and straight out of the jar!
Adapted from Liz Williams
Adapted from Liz Williams
Lost Recipes Found https://lostrecipesfound.com/