Jump to recipe
When I hear, "Valentine's Day," the queen of hearts rhyme I learned as a tot, always pops to mind: "The queen of hearts, she made some tarts, all on a summer's day, The knave of hearts, he stole those tarts, and with them run away…" (I think the illustration of the skinny-legged "knave" running off with the tarts in the nursery primer was what fascinated me most.) Anyway, thinking about the verse recently, I poked around and discovered it was written by an anonymous poet in the 1700s, who added three more scandalous stanzas that definitely wouldn't fly in the nursery. I'm guessing you've never heard them either, so here you go:
The queen of hearts, she made some tarts, all on a summer's day,
⁠The knave of hearts, he stole those tarts, and with them run away:
⁠The king of hearts call'd for those tarts and beat the knave full sore;
⁠The knave of hearts brought back those tarts, and said he'll ne'er steal more. (continued through link)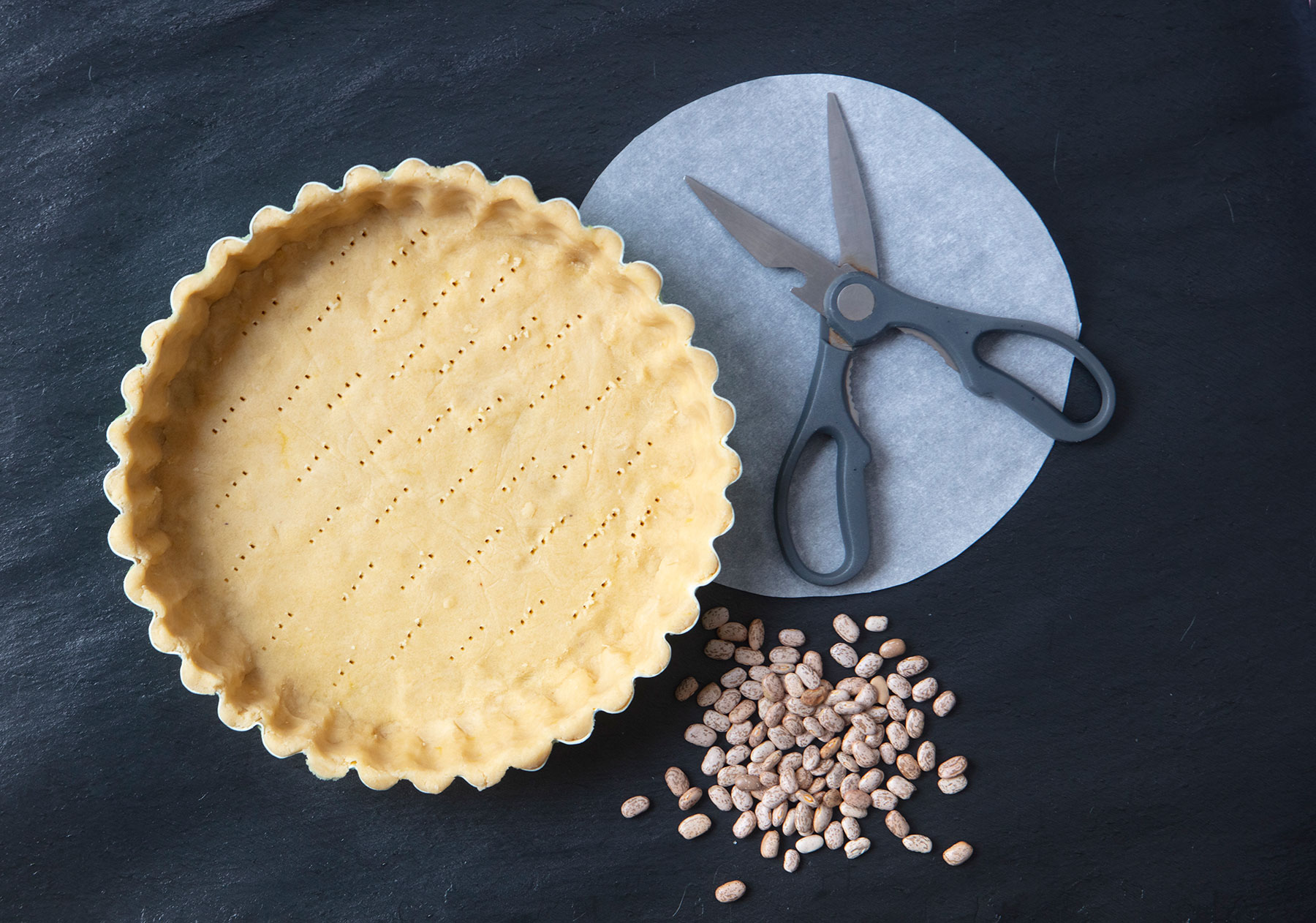 ⁠The king of spades, he kiss'd the maids, which vex'd the queen full sore;
⁠The queen of spades, she beat those maids, and turn'd them out of door:
⁠The knave of spades griev'd for these jades, and did for them implore;
⁠The queen so gent, she did relent, and vow'd she ne're strike more.
⁠The king of clubs, He often drubs, his loving queen and wife,
⁠The queen of clubs returns him snubs, and all is noise and strife:
⁠The knave of clubs, gives winks and rubs, and swears he'll take her part;
⁠For when our kings will do such things, they should be made to smart.
⁠The diamond king, I fain would sing, and likewise his fair queen,
⁠But that the knave, a haughty slave, must needs step in between.
⁠Good Diamond king with hempen string, this haughty knave destroy,
⁠Then may your queen, with mind serene, your royal bed enjoy.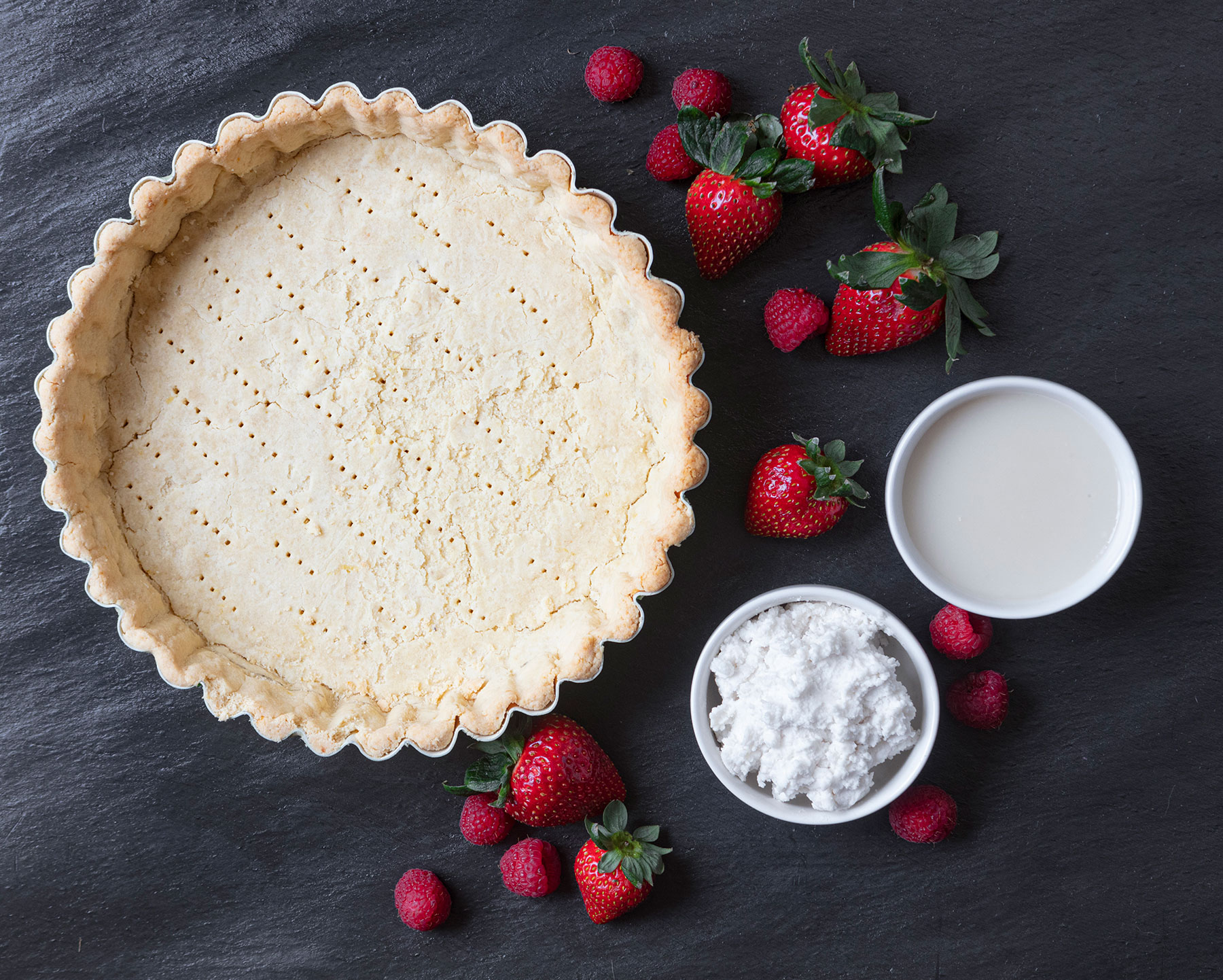 No wonder the extra verses didn't make nursery grade(!) But knaves aside, this beautiful tart is queen-worthy and heart-healthy. Featuring a gluten and dairy free crust, it's filled with a delicate coconut-almond-milk custard (dairy and egg free) and topped with fresh strawberries and raspberries. Use great care removing the crust from the tart pan as it is more fragile than one made with regular flour and butter. (You may wish to just serve it in the pan.) Also, the custard will not be a firm as a typical custard cream. The tart is best eaten right after you make it, to enjoy the berries at their freshest, and to prevent the crust from softening. You can glaze the fruit European style, with a little melted jelly, but it is freshly sweet without it.
Sweetheart Tart: Red Berry and Custard (Gluten-, Dairy- and Egg-Free)

Ingredients
FOR GLUTEN-FREE CRUST:
2 cups almond flour
1 cup gluten-free flour
1 stick (1/2 cup) cold vegan butter (use solid sticks, not whipped), plus more to coat tart pan
2 Tbsp sugar
Finely grated zest of one lemon
¼ tsp salt
2 Tbsp very cold almond milk
FOR DAIRY-AND-EGG-FREE CUSTARD:
1, 13.5 fl. oz. can coconut milk
2/3 cup almond milk
¼ cup pure cane sugar
1/4 cup corn starch
½ tsp vanilla paste (optional) OR 1/8 tsp seeds scraped from a vanilla bean
FOR RED BERRY TOPPING:
1 cup fresh raspberries
1 pound container fresh strawberries, hulled and cut into thin slices to make heart shapes
Instructions
MAKE CRUST: Preheat oven to 350. Generously coat the sides and bottom of a removable-bottom 11-inch tart pan with vegan butter. Set aside. In a wide, shallow bowl, stir dry crust ingredients together with a fork. Cut vegan butter in small pieces over the dry ingredients. Using a fork or fingertips, break butter into small pieces and and work into the flour until mixture resembles wet sand. Add 2 Tbsp almond milk and work into the dough. Gather dough into a ball. Spread work surface with two overlapping pieces of plastic wrap to make a 13 inch x 13 inch square. Flatten dough into a disc in the center of the wrap. Cover with two more overlapping pieces of plastic wrap to make a 13 inch x 13 inch square over the top. Roll dough out to a 12-inch circle. Remove and discard top sheets of plastic wrap. Lift and flip dough circle over into prepared tart pan. Press dough into pan, using the trim to patch any cracks. Prick bottom with tines of a fork. Cut parchment paper to fit bottom of tart; place into crust-lined tart pan. Fill with dry beans or pie weights. Bake for 15 minutes at 350. Remove parchment and beans/weights; bake for 15 more minutes until crust is golden. Remove tart crust from oven. Cool on a rack.
MAKE CUSTARD: Combine all ingredients in a heavy-bottomed saucepot, over medium heat. Break up the coconut solids—they will melt quickly. Whisk just until mixture begins to boil. Reduce heat to low and continue whisking until thickened. Remove from heat. Scoop custard into a wide bowl to cool to room temperature.
ASSEMBLE TART: Once custard has cooled to room temperature, smooth custard into cooled tart crust. Push up on the removable tart pan bottom to carefully press tart out of tart pan; place on serving platter. Place tart in refrigerator for ½ hour or a bit more until custard has set. Remove from refrigerator. Decoratively arrange raspberries and fresh strawberry slices on top of the custard. Serve immediately.
© 2023 2017 Copyright