Jump to recipe
The first time my parents drove to the tiny Texas town where I would spend my early childhood, Dad got lost. He found a filling station and asked the attendant where Riesel was — pronouncing the placename "Rye-zel." The man blinked at dad for a few moments and then, eyes wide with belated recognition, said, "Ohhhh! you mean REEEEE-zel!" drawing out the eeeeeeeee's in an impossibly wide-mouthed drawl. And so it was, we moved back to Texas. Mom had grown up in Houston and coached collegiate basketball in Texarkana. Then she made a serendipituous wide swoop North to coach at the University of North Dakota, where she met Dad, a South-side Chicago native, at the beginning of his vicarage in the frozen North. After a few winters there, Mom was very glad to get back to the Lone Star State. My brother and I benefited from the remoteness–and the heat. We ran around nearly naked for two years, in, and out, and all around the old wooden farm-house, with it's big rooms, tall windows, and banana trees out back, where we used to sit on the porch steps and eat huge slices of Texas watermelon : ) And my mom's cooking–lots of no-bean steak chili, and this chili mac made with dried New Mexico chilies, plenty of cumin, chili powder, garlic and onion, and the obligatory elbow macaroni, this dish is comfort that never fails to please.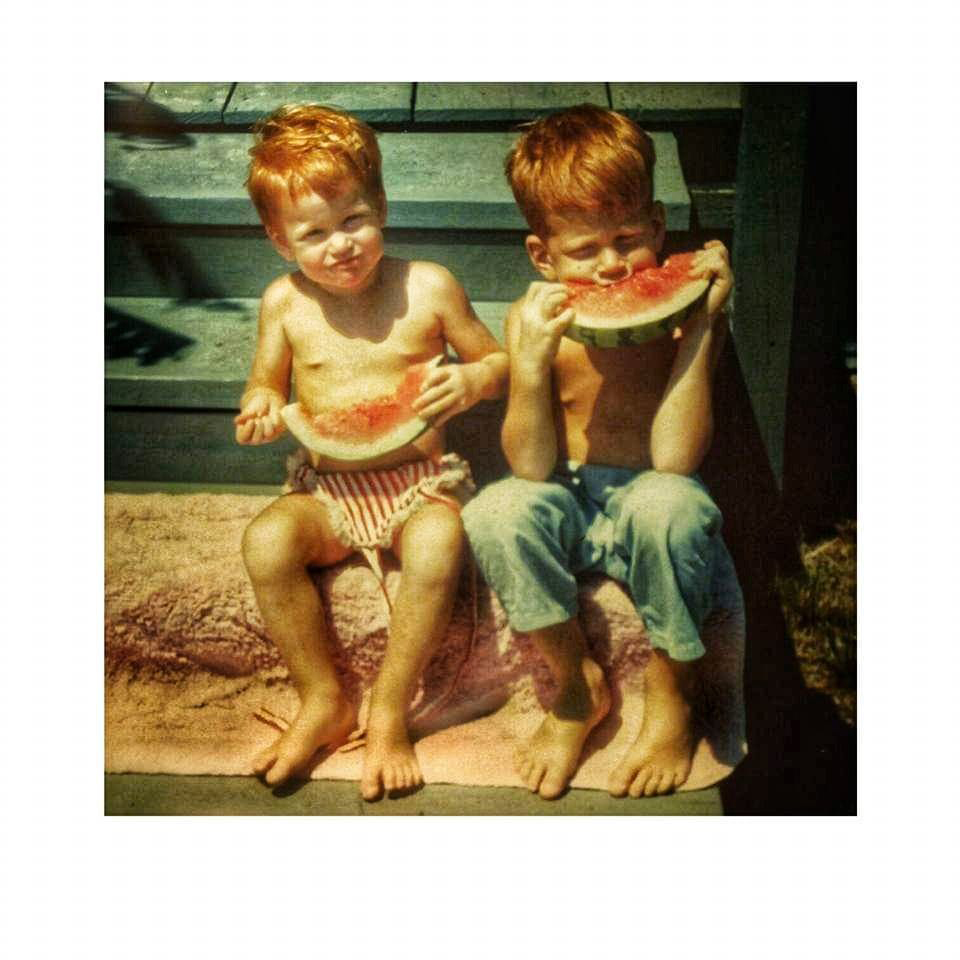 Mom cooked basics well, and liked hot stuff. She used to keep pickled peppers in the fridge so hot, just opening the jars made my eyes sting. For Texas chili–we made a version with steak, dried chilies and no beans! But when we were little, chili mac was a bit easier to make.
You can pile the whole mixture in a casserole, top it with the grated cheese, and pop it in the oven until hot and bubbly, or, if you prefer: individually plate the chili mac and serve the cheese and garnishes at table. NOTE: if you taste the chili sauce before you mix in the macaroni and ground turkey, it will seem spicy–but once the other ingredients are added, it mellows out. In fact…for those who want it hotter, you may want to add more cayenne, and keep a bottle of hot sauce on the table. Enjoy!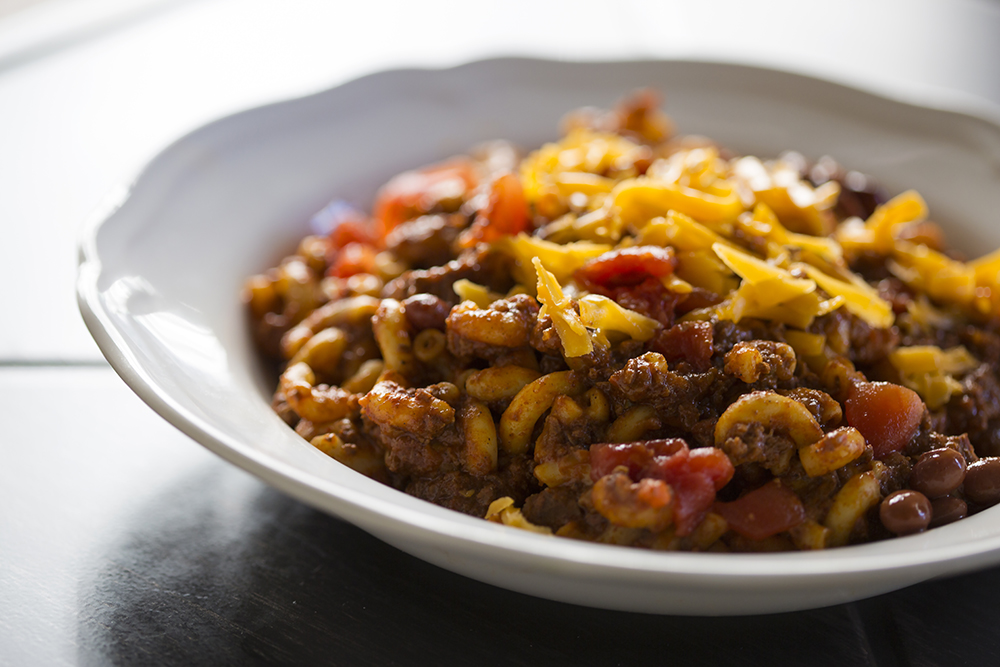 Mom's Chili Mac

Ingredients
4 dried New Mexico chilies, soaked in hot water, seeds and stems discarded, flesh chopped fine
4 Tbsp sunflower or canola oil for the sauce, plus 1 Tbsp for browning the ground beef
1 Tbsp cumin seed, ground fine
1 tsp smoked Spanish paprika
2 to 3 Tbsp chili powder
1/4 tsp cayenne pepper
3 tsp salt
1 Tbsp freshly ground black pepper
1 Spanish onion (yellow) chopped
3 nice, fat cloves of garlic, chopped
1 cup water
1 14.5-ounce can fire-roasted tomatoes
1 well-drained 15-ounce can pinto beans OR 1 1/2 cups fresh-cooked pintos (the better option–but if you used canned, be sure to rinse them well)
3 cups uncooked elbow macaroni
2 pounds ground beef
1 cup grated sharp cheddar cheese OR Chihuahua melting cheese
1/2 cup fresh cilantro leaves, finely snipped
1/2 cup fresh green onion, finely sliced
1/2 cup fresh white or yellow onion, small chop
Instructions
Pour boiling water over the dried New Mexican chilies and let soak until soft. Remove and discard stems and seeds. Finely dice the flesh of the chilies.
In a heavy-bottomed skillet, add the 4 Tbsp cooking oil. Add the diced New Mexican chilies. Add all of the spices (cumin, paprika, chili powder, cayenne pepper, salt, and pepper.)
Heat and stir the spices until fragrant.
Add the chopped onion and garlic and stir, sautéing over medium heat for three minutes.
Lower heat and add the cup of water, stirring occasionally until the onions and garlic are soft.
Stir in the tomatoes. Stir in the beans. Turn off heat and cover to keep warm.
Prepare the three cups of elbow macaroni according to package directions. Drain. Toss cooked macaroni with a teaspoon of cooking oil.
Brown the ground beef in the remaining 1 Tbsp of cooking oil. Drain off fat.
Combine the cooked beef and macaroni with the chili sauce. Stir well to incorporate. Adjust seasoning to taste with more salt and pepper.
Either place in a casserole, top with cheese and heat in a 350 oven until cheese is bubbling, then sprinkle the garnishes over when you serve OR plate chili mac individually, serving the cheese, onions and cilantro tableside.
© 2023 2017 Copyright