The waitress at Ernie Risser's family restaurant in Womelsdorf, PA, watches me looking dubiously at the gravy she just plunked down with the corn pie I ordered. Assuming we're in cahoots, she leans in, whispers, "I like to eat corn pie with hot milk, too!" and smiles conspiratorily. Whisking away the gravy boat she soon returns with a little pitcher of milk. Strange upon strange, think I…but, it turns out, not awful. Still, I left plotting something better & more akin to my Midwest upbringing: homemade creamed corn with bacon and onion in a flaky pie crust. The result? This recipe. To make it, cut fresh sweet corn from the cob, simmer it in a peppered white sauce with smoked bacon, onion and red pepper, put it in the pie crust and while it bakes, go find greens to make a nice salad to serve on the side. Baby arugula or mache are nice. For a broader meal? Corn pie pairs wonderfully with fried chicken and some vinegary pickles.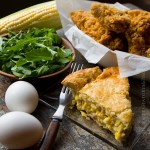 Sweetcorn & Bacon Pie
2016-07-17 00:09:25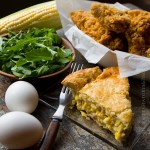 Serves 8
New Midwest spin on old Pennsylvania corn pie! Sweetcorn cut from the cob, simmered in peppered white sauce with bacon and onion, and baked in a flaky pie crust.
Ingredients
Corn, Bacon & Onion filling Ingredients
5 fresh ears of sweet corn (enough to make 3 1/2 cups of kernels)
About 1/3 lb un-cured smoked bacon, cut very fine (I use Trader Joe's Applewood-Smoked Uncured Bacon Ends & Pieces.) Cooked, bacon bits should measure 1/2 cup
1 medium onion peeled and diced to make 1/2 to 3/4 cup
1/4 cup sweet red pepper, cored, seeds removed and very finely diced
2 tsp salt, divided (or slightly less–to taste)
1/2 tsp freshly ground black pepper
2 Tbsp butter
2 Tbsp all-purpose flour
1 cup whole milk OR remaining evaporated milk from making the pie crust plus enough regular milk to make one cup
Double-pie-crust
2 1/4 cups all-purpose flour
2 tsp sugar
1 tsp salt
1 cup (two sticks) very cold unsalted butter
4 to 5 Tbsp very-cold evaporated milk OR cream
egg wash made by whisking 1/2 cup milk with one egg
Instructions
Make pie crust: Sift flour, sugar and salt together. Cut butter in to flour mixture with two knives or fingertips until mixture resembles wet sand with some pea sized bits in it. Add evaporated milk (or cream) 1 Tbsp at a time (only use what you need to get the dough to hold together.) Mix with a fork until pastry begins to pull together. Turn pastry out onto sheet of plastic wrap and form into a ball. Cut in half. Wrap each half of the pastry in plastic wrap–flatten into two disks. Refrigerate for 1 hour.
While dough chills, make filling: Cut corn off of all of the cobs. To do this, I place one end of a large cutting board in a white plastic garbage bag in the bottom of the kitchen sink. I prop the other end of the cutting board on the lip of the sink (washboard style) and tuck the top of the garbage bag over the faucet to keep the bag wide open. Using a sharp knife, I slice the kernels off the cobs, onto the cutting board and down into the bag. This helps keep the corn from spraying all over the kitchen! Measure 3 1/2 cups of kernels into a large mixing bowl. Set aside.
Make bacon: Brown bacon in frying pan until fat has rendered and bacon is well cooked. Remove bacon to a separate bowl using a slotted spoon, leaving bacon fat in skillet.
Saute onion in bacon fat for two minutes, stirring often. Add 1/4 cup water and cover, simmering until onion is very soft but not brown. Stir corn and red pepper into onion. Add 1/2 cup water. Cover. Simmer for 5 to 10 minutes until corn is hot through and loses "raw" flavor. Season with 1 tsp salt and 1/2 tsp freshly-ground pepper. Remove to a bowl.
Melt butter in saute pan. Whisk in flour and toast for three minutes. Whisk in 1 cup of evaporated milk (or regular whole milk) until a smooth white sauce forms. Season to taste with 1/2 to 1 tsp salt plus more fresh ground pepper.
Add corn mixture to white sauce. Stir in bacon. Mix well. Try not to eat all of the creamed corn while making note to self that this would make an awesome side dish, not even baked into the pie.
Preheat oven to 350 degrees. Roll out one of the pie pastry disks and fit into the bottom of a 9-inch pie dish. Fill pie with corn filling, mounding in the center. Roll out second pie pastry disk and top pie. Decoratively crimp edge. Brush top of pie with egg wash. Cut slits in top of pie to vent steam.
Place pie on center oven rack and bake at 350 for 40 to 45 minutes until top of pie is nicely browned and filling is bubbling. Let pie cool on a rack for at least 15 minutes before cutting.
Notes
In Pennsylvania, it's traditional to include hard cooked egg and potato in corn pie. We left those things out in favor of bacon and onion...
Lost Recipes Found http://lostrecipesfound.com/